Microsoft originally described Windows 10 as 'the last' version of Windows but now Microsoft's updated Windows lifecycle fact sheet states that the company will drop support for Windows 10 Home, Pro, Pro for workstations, and Pro education on October 14, 2025. This means that Microsoft will not release any more updates and security patches for Windows 10 past that date.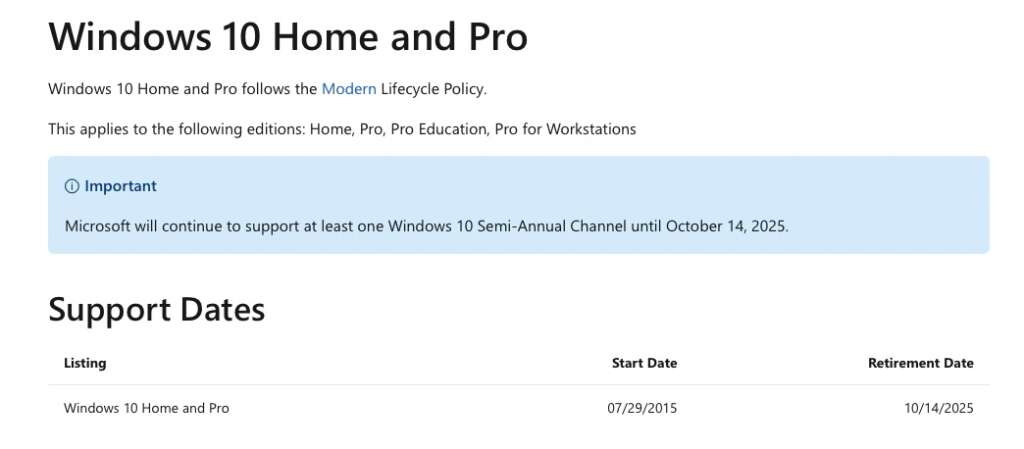 Microsoft have listed a new event on their website, which will take place on June 24 at 16:00pm UK time. At the event, Microsoft will highlight 'what's next for Windows' which is rumoured to be the next generation of Windows. At the moment, Microsoft have not yet officially stated what the next Windows will be named, although they have been hinting it will be Windows 11.
Join us to see what's next for Windows – https://www.microsoft.com/en-us/windows/event
As far as the Windows 10 retirement is concerned, it is likely that the last version of Windows 10 may last longer than October 14, 2025 as people often take a bit of time to upgrade from one Windows operating system to another. Microsoft will likely give extra time for people to migrate over to the new operating system, similar to what they did for upgrading from Windows 7, 8 and 8.1 to Windows 10.

This will come as disappointing news to most people who adopted Windows 10 believing they would not have to go through the hassle of upgrading, adjusting to something new and different again. However, with technology always advancing, it is important to remember that things can change, regardless of how frustrating it can be for some, it's always for the better. A new version of Windows will include better software, improved security and improved performance over Windows 10.

When the time comes, it's important that you take the next step and upgrade to the next version of Windows to remain up to date and secure online. AJ I.T Services can help make this process as pain free as possible for everyone.